When communication matters most, InformaCast notification software by Singlewire provides the speed and reach to get critical information into the hands of the people who need it. This versatile mass communication system works with mobile and on-premises devices to protect people when emergencies strike.
As distributor of Singlewire InformaCast software, AtlasIED is a single source for a complete life safety solution. Moreover, the experts in our Design Services department are available to assist with the design and implementation of InformaCast and IPX for a comprehensive Unified Communications (UC) environment.
InformaCast alert software integrates with our IPX family of IP Endpoints as well digital signage, and other IP devices to create an enhanced mass notification system. Manage situations with the ability to see who has read notifications, escalate messages to broader audiences, and know who is safe and who needs help. With scrolling text, audio, images, SMS messages, email, phone calls, and desktop pop-ups, organizations have more ways to reach more people.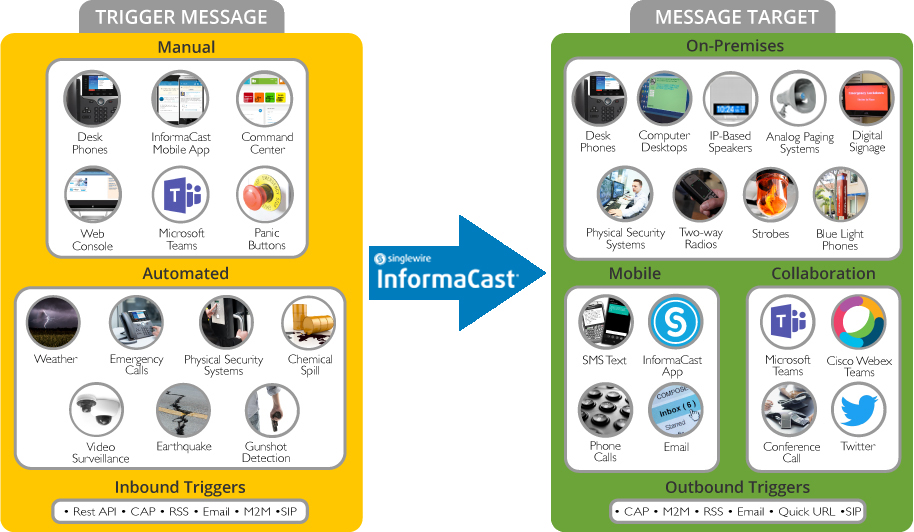 When combined with InformaCast, IPX solutions offer advanced emergency notification features and amplify the capabilities of the entire on-premises communications network with visual and audible messaging in areas other systems cannot cover.
IPX solutions consist of InformaCast compliant IP endpoints that provide unmatched scalability and functionality. Models within the family include LCD displays with network time/date synchronization, built-in microphones for full duplex communications, and LED flashers. Additionally, IPX's IP to analog gateway can connect analog audio systems to the network for even more coverage during critical alerts.
Watch how IPX endpoint devices can differentiate between drills and actual emergency situations using color coded backgrounds on the LCD screen. Color coding messages can covertly offer additional information when used in education, healthcare, and industrial applications.
InformaCast offers three service levels beyond Basic Paging to enhance the speed and reach of your communications. InformaCast Advanced reaches devices within a building or campus. InformaCast Mobile utilizes a mobile app and web console to reach people on their mobile devices, and InformaCast Fusion provides the best of both worlds, bringing together the ability to reach mobile and on-premises devices from a single interface.