Written by Jon Stembel, AtlasIED Product Manager.

The Atmosphere™ digital audio platform includes a variety of accessories that have been designed to be easy to install, configure, and use. With attention payed to common integration and end user issues, Atmosphere™ accessories solve real world problems with real world solutions. The industrial design follows this philosophy by marrying up a clean, modern customer facing front side with a robust metal back can to withstand the harshest install environments and be installed in most back boxes throughout the world.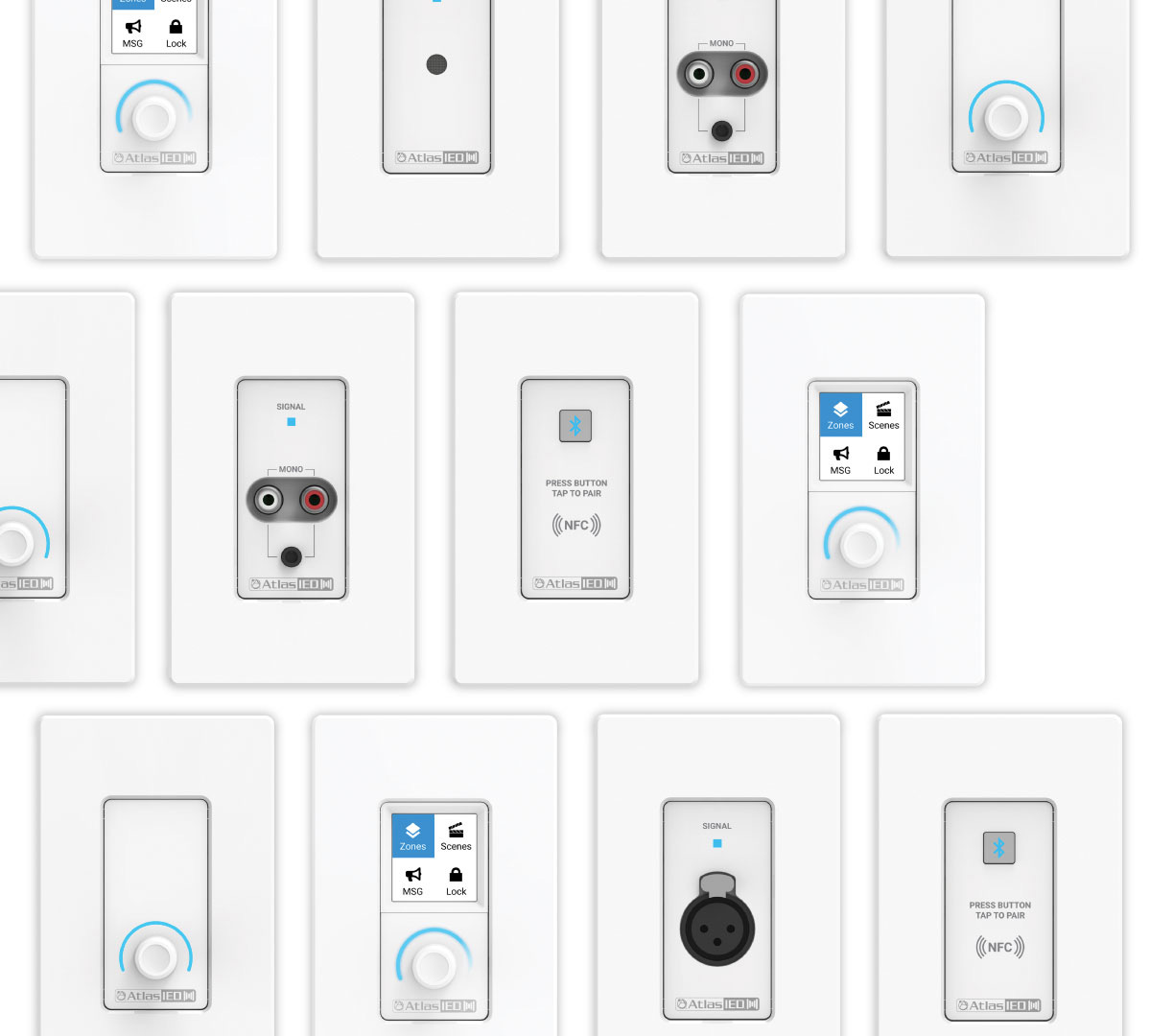 In order to accommodate a wide variety of system designs the Atmosphere™ solution uses a proprietary accessory bus for audio and data communication between the accessories and host processor. All signals on the bus are digital so there is no need to worry about issues traditionally seen when using analog solutions. All connections between the host processor and accessories are completed using standard and common CAT5e and up cable. To provide the system designer with the most flexibility multiple accessory ports are available on each host processor. Four on the AZM8 and two on the AZM4. This reduces the number cable runs needed for a project and allows easy implementation of spoked designs. To further reduce cable runs within a project all accessories are daisy chainable with each port accommodating up to 8 devices with each AZM allowing up to 16 total accessories. Adding audio wall plates to an Atmosphere system is simple with each accessory port allowing a single audio accessory. This means that four additional audio inputs can be added to an AZM8 and two to an AZM4. Note that you can not add multiple audio wall plates to a single bus. In order to accommodate larger venues the total bus length for each run can be up to 1000 feet or 305 meters. For reference this is roughly the height of the Eiffel tower in Paris.
With intelligence built into every model, integrating endpoints into an Atmosphere system is easy and intuitive. All accessories that are plugged in are automatically discovered and populated in the host processor user interface. Discovered accessories are grouped by port and ordered by bus position. Additionally, all accessories have a status indicator that will show a green checkmark when an accessory is plugged in and working correctly. In order to make matching up physical hardware with user interface controls easy, there is a locate feature that can be toggled on and off from the user interface. When turned on, the associated accessory will flash all of its LEDs blue. If the locate feature is left on for more than 30 minutes it will automatically turn itself off.
There are three classes of accessories within the Atmosphere solution. Controls, audio inputs, and an ambient noise sensor. There are two control accessories available.
Volume Controllers
The first is a simple volume controller with LED ring. This is called the C-V-US. The controller can be programmed with a single click by simply selecting a zone for it to control. Additionally, the LED ring comes pre-configured to show the output meter, fader control, and mute for the selected zone. All of these functions can be opted out and colors representing the function changed to one of eight pre-configured colors. Further controls include the ability to limit the fader range to a selected maximum and minimum as well as disallowing the wall controller to mute the assigned zone.
The second controller is called the C-ZSV-US and builds on the capabilities of the C-V-US. This wall controller adds a color screen with a built-in menu structure and has the ability to control multiple zones, recall scenes, and messages.
Out of the box no controls are configured and must be opted in. This is a simple process which begins by selecting all zones you would like to be available to the end user. After zones have been selected, available inputs are assigned to each zone. Scenes and messages can also be opted in and made available on the controller. In order to make the C-ZSV-US more useful for end customers, the screen has several options that can be configured. First is a choice of two themes, light and dark. These can be used to optimize performance in both high and low ambient light environments. These themes can be used in dynamic mode where the theme switches from light theme to dark theme and back again based on preset times and the AZM's internal clock. The second available screen feature is an optional screen saver. This is a screen setting that takes effect when no user input is observed after the user set timeout period. There are four different screen savers available. The QR code screensaver shows a QR code that navigates the user to a virtual version of the C-ZSV-US. The home screen option shows the navigation home screen and the black screen option shows no content while in screen saver mode. The final option is standard 12-hour clock with the date. To help protect the opted in controls from unintended users, a 4 digit PIN code can be opted in. This option requires the end user to enter the code before gaining access to controls. The pin code automatically engages after the timeout period.
Audio Inputs
In order to accommodate remote audio sources, three audio wall plates are available. The first audio wall plate is the A-RCA-US. This wallplate accepts both an RCA pair or a 3.5mm input and includes a signal presence indicator.
The second audio wall plate, A-XLR-US, accepts a single XLR input with phantom power being toggled on and off from the user interface. This wall plate also includes a signal presence indicator.
The third audio wall plate is, A-BT-US, a Bluetooth receiver that has been designed for use in commercial applications. The physical button is used for both pairing and unpairing of devices from the wall plate. If a user is connected that shouldn't be, a simple press of the button will disable the connection. The button also indicates the current mode of the wall plate. Blue represents pairing mode, green paired, and red a failed connection. Users with Android devices can take advantage of the onboard NFC to pair to the controller when in pairing mode. All Bluetooth wall plates ship with a pre-configured broadcast name that can be customized to provide the end customer a relevant discoverable name for their venue. The open air performance for the Bluetooth audio is 100'.
Ambient Noise Sensor
The last available accessory is the X-ANS-US. This accessory is needed when the ambient noise compensation is implemented. The accessory is a true sensor and does not send audio back to the host processor. This provides two significant benefits. The first allows us to have a secure solution that does not allow for nefarious use of the sensor. The second benefit is that with only data being returned to the host processor the use of audio wall plates on the bus is preserved.
With a wide variety of plug and play accessories available, the Atmosphere™ product line creates an easy to use integration and configuration experience for expanding control and audio to any system.