Seattle-Tacoma International Airport
Case Study
AtlasIED GLOBALCOM.IP Mass Communication System Handles Mission-Critical Requirements at Seattle-Tacoma International Airport's new 450,000-Square-Foot International Arrivals Facility
Airports are notoriously loud, busy, and chaotic, and comprise a wide variety of acoustical environments—small seating areas, segmented retail shops and restaurants, to large open concourses, and baggage claim areas. This combination of variables can make it extremely difficult for passengers to clearly hear announcements regarding gate changes, courtesy calls, screening procedures, life safety information, and more.
Rather than leave the reception of mission-critical information to chance, the Port of Seattle made sure the recent addition of a 450,000-square-foot International Arrivals Facility (IAF) to the Seattle-Tacoma International Airport (SEA) would include a top-notch audio communications system. Chosen for its proven reliability, scalability, solid performance in some of the world's busiest transportation facilities, SEA opted to expand the existing AtlasIED system and continue to supplement the life safety system, AtlasIED's GLOBALCOM.IP solution met the communications criterion set for the newly constructed space.
Setting a Standard for Positive Passenger Experiences
"First and foremost, the goal of this project was to provide an exceptional passenger experience," says Todd VanGerpen, Manager of Innovation and Systems at Seattle-Tacoma International Airport. Everything in the IAF Terminal, from the architecture, layout, traffic flow, and furnishings, to the communications infrastructure, IP endpoints, and audio components, was carefully curated during the design of the new facility.
"Our requirements called for creating an audio environment that would deliver outstanding speech intelligibility that our guests would find very pleasing," VanGerpen continues. This is of particular importance, given that the new IAF project nearly doubles the amount of international capable gates into the airport and will more than double passenger capacity to 2,600 passengers per hour. "The goal is to deliver the right information to the right places, with the clarity and volume level necessary for complete passenger satisfaction," VenGerpen adds.
Redundancy for Failsafe Operation
Never in a transportation hub should the distribution of a message fail. Reflecting this philosophy are numerous safeguards built into the GLOBALCOM. IP framework by Electrocom. Each of the facility's five IED1151 Announcement Control System controllers is tied to a lifeline server that automatically takes over the distribution of audio should a controller on the network fail. Additionally, 24 GLOBALCOM.IP 1000 Series amplifiers are secured by 16 GLOBALCOM.IP back-up amp switches. System security continues through the wiring infrastructure, as every controller, amplifier, server, more than 70 GLOBALCOM. IP microphone stations, and other endpoints are tied together via redundant fiber pathways. The entire IAF system runs off CobraNet™, enabling it to easily integrate with legacy CobraNet™ equipment utilized throughout the entire airport for many years. "The GLOBALCOM.IP platform within the IAF expands the existing network but with AtlasIED's newest components," says Electrocom Account Manager Matt Wright.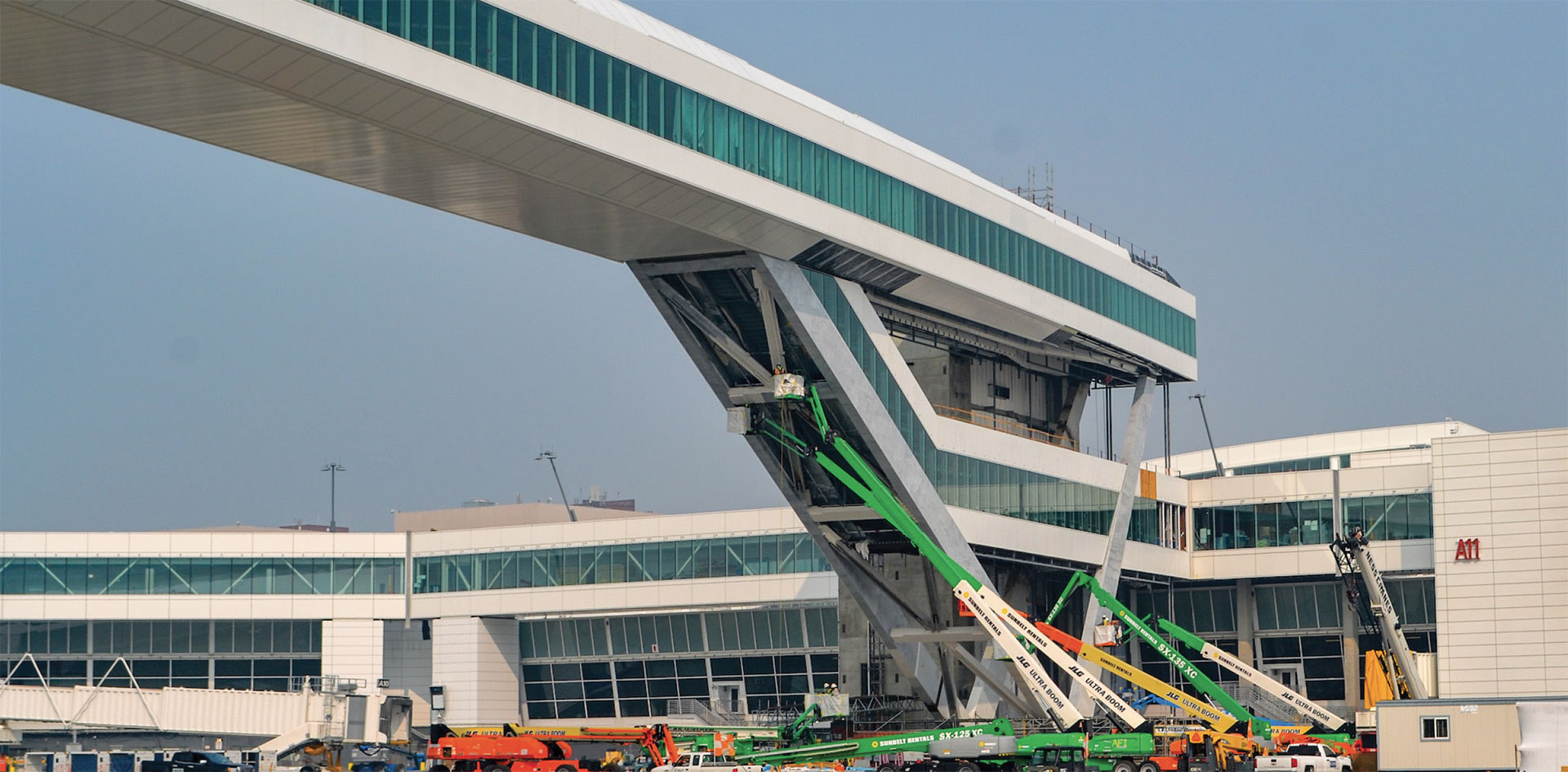 Adherence to Stringent Communications Regulations
International travel procedures are in a constant state of flux, so it's vital to stay informed while at the airport. Compliance with NFPA-72 intelligibility standards ensures that a communications system is up for this challenge. During the design of the IAF, GLOBALCOM.IP was put through the paces and it passed this and other mandates with flying colors. Advancing through extensive testing, modeling, and simulations, its announcements could be easily heard throughout every part of the terminal, including large open spaces, confined gate areas, restrooms, baggage claim, and more.
The freedom for the systems designers at Electrocom to integrate a variety of speakers onto the GLOBALCOM.IP network contributed largely to the audio clarity. They were able to choose the best type of speaker for each distinct environment, and by leveraging the zoning capabilities of GLOBALCOM.IP, steer live and prerecorded messages to specific areas with minimal effort required of airport personnel. With many automation features built-in and the ability for airport employees to play pre-recorded messages with the push of a button on a microphone station, GLOBALCOM.IP streamlines system operation for airport gate agents and other airport personnel, reducing the risk of human error.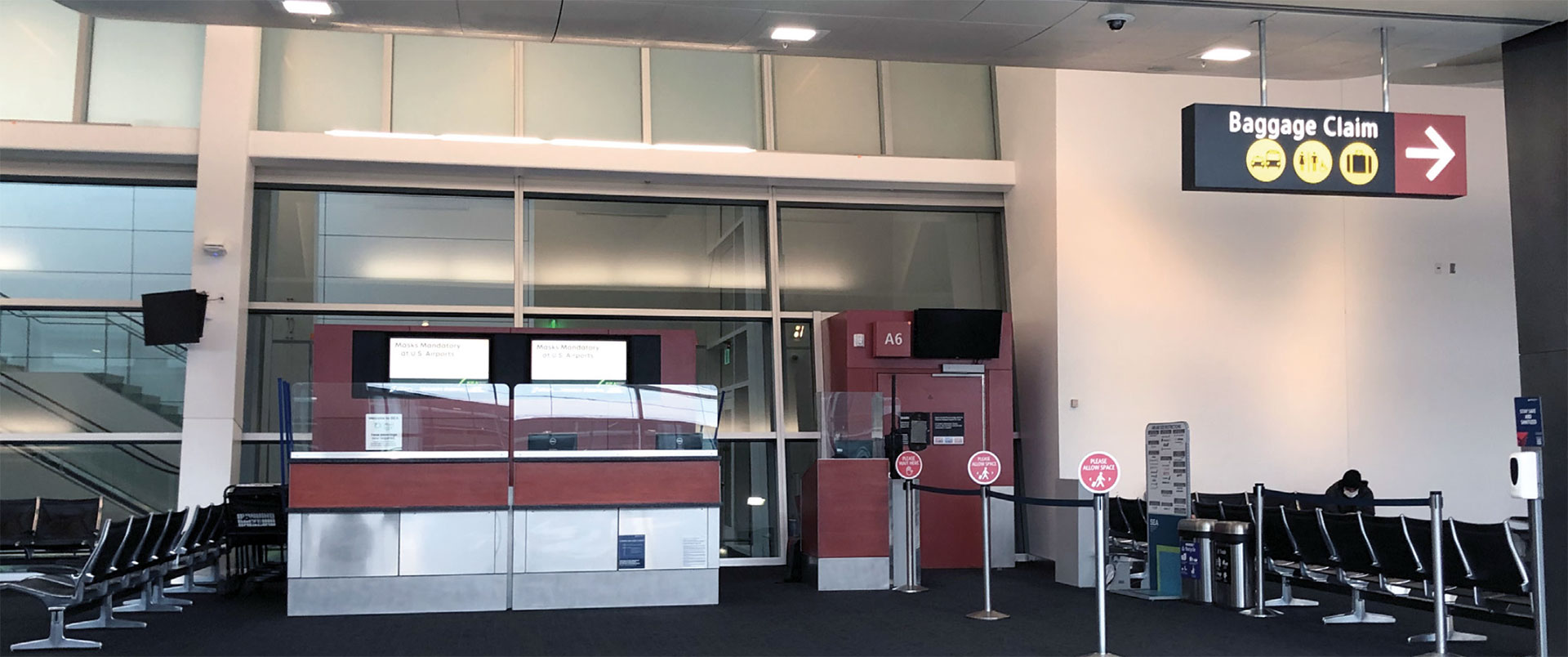 Resolution of Communications Conflicts
"A common communications issue at airports is the broadcast of simultaneous announcements into adjacent areas," VanGerpen says. "For example, when there are two or more arriving flights whose travelers are in the IAF baggage claim area, the audio for adjacent claim locations is shared." To prevent announcement conflict with shared zones, the GLOBALCOM.IP system's record/playback functionality is leveraged. The airline staff can make their announcement, the announcement is queued until all configured zones are available and the message plays in its entirety. This feature supports a positive guest experience and allows the airline staff to move to their next task without waiting.
Messaging that Matters Through Customized Zoning
The GLOBALCOM.IP system is easily configurable to deliver audio to the right people at the right time and place. Guests hear only the messages that pertain to them, minimizing confusion for a more enjoyable traveling experience. For example, IAF travelers at the recheck area do not need to hear announcements about baggage claim changes because they have already completed the claim process and have left the area. GLOBALCOM.IP prevents baggage claim information from playing unnecessarily at recheck.
GLOBALCOM.IP has the topography that allows the creation of audio zones as small as a single speaker up to a combination of all the zones in our facility, The zonal configuration can always be modified from a PC-based workstation to accommodate inevitable changes in airport procedures.
Prioritization of Life Safety Alerts
Always at the top of the messaging hierarchy are life safety alerts and announcements. Electrocom integrated GLOBALCOM.IP with SEA Airport's existing mass evacuation system, enabling automatic override of routine announcements for emergency alerts. The ability to integrate GLOBALCOM.IP with displays further enhances SEA Airport's emergency preparedness plans and ADA compliance. Visual way-finding information can guide guests and staff to safety and present a list of regulatory requirements for CDC compliance, for example.
Open for Summertime Travel
While regulatory policies have put a damper on travel, the work at IAF continues as crews put the finishing touches on the facility in time for a summertime 2021 unveiling. Although it may work mostly behind the scenes, GLOBALCOM.IP plays a leading role in executing an environment that's comfortable, safe, and easy to navigate for passengers and efficient and productive for airport personnel.