1 year is 1 trip around the sun, 12 months, 365 days, 8760 hours, 525,600 minutes, or 31,536,000 seconds. And when it's put that way, 1 year sounds like a lot of time. But as we all know, time flies.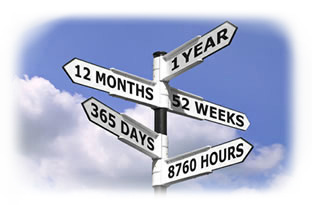 Before you know it, we'll be leaping into 2020 (see what we did there?) and the changing of the year brings a multitude of predicted technological advancements. Some past predictions about our way of life in 2020 include:
Every road and street in America will be replaced by a network of pneumatic tubes. – Popular Mechanics, 1957
Telepathy and teleportation will become possible by the year 2020 – with both commonplace by 2040 – Michael J. O'Farrell, Shift 2020
Every family will have at least one helicopter in their garage – Popular Mechanics, 1951
The useless outer toes of humans will become used less and less to the point where man might become a one-toed race. – Richard Clement Lucas, Royal College of Surgeons of England, 1911
Before you start obsessing over the health of your little piggies or being shoved through a tube to go get your groceries, take a deep breath. Some of these predictions are simply ridiculous and primarily based on conjecture. Why is this important? Because in order to make an educated prediction about the future, it takes more than just a sneaking suspicion or a shot in the dark.
At AtlasIED, we've built a foundation for success and we're forecasting more of it in 2020. It's not just a theory. We're predicting success because we've planned, strategized, and invested in it. Let's take a look back at what we have achieved in 2019.
To start, we had a number of major investments in company infrastructure to develop the technologies and products our customers are asking for. Two new product design and development facilities opened: one in Salt Lake City, UT and another in Elkhart, IN. And to further establish our global presence, a new showroom in Paris, France was opened.
In order to be successful, you can't just sit on your hands and wait for it to happen. You have to go after it. That's why we attended 49 events across 23 U.S. states and 6 countries. And that doesn't even include some of the smaller, regional events where we supported our clients. Over 1 Million people had the opportunity to see AtlasIED solutions in person. And one of the major event successes in 2019 was a 4x increase in visitors to our InfoComm booth compared to 2018. That growth speaks volumes about the industry recognizing the path we are on.
At a few of these events, AtlasIED was selected for some very prestigious awards including IPX receiving rAVe Pubs' Best of ISE award and SHS accepting Installation magazine's Best of Show at ISE. At InfoComm, IPX and SHS were recognized again by Commercial Integrator (IPX – Best of 2019 MNEC Product) and Systems Contractor News (SHS – Installation Product Award). IPX was also shortlisted for the 2019 AV Awards which is an honor in itself. All of these new products and the awards they were receiving had the industry taking notice which was further demonstrated by the 200+ mentions in industry publications.

But having great solutions is only the beginning. A successful company must support these products and train their customers how to use them. That's why we created 10 new training and continuing education options in 2019. 3 accredited courses for AVIXA, BICSI, and AIA continuing education credits along with 4 classroom courses, 2 online training options, and 1 certification for integrators in the transportation market are part of the investment we make in providing our business partners with the tools they need to be successful. In 2019, over 130 people took advantage of at least one of these training options.
In addition to SHS and IPX, AtlasIED launched a variety of new products in 2019 including Texas Tough equipment racks, Z Series sound masking solutions, microphones, digital mic stations, ceiling racks, and a new WTSD series of commercial audio processing products. Altogether, AtlasIED delivered 88 new products to market in 2019.
And in order to further support our business partners and their clients, we teamed up to support the organizations that support them. In addition to renewing our memberships with NSCA, AVIXA, BICSI, AAAE, ACC, IPMA, and D-tools which we have been partnered with for some time now, we also became new members of ESA, USAV, PSA, XTEN AV, ARCAT, CCUMC, AIA, IFMA, CoreNet, and others.

New partnerships... New products... New facilities... New awards... New technologies... 2019 was a busy year at AtlasIED and while ceiling speakers and mic stands are the foundation our company was built upon, advancements in audio and communication technologies for transportation, education, corporate, healthcare, hospitality, and industrial environments is where we are headed.
As we reflect, rest, and relax with friends and family over the holiday season, we're excited to show the things we have planned for 2020. On behalf of everyone at AtlasIED, Happy Holidays to you and your family, friends, and colleagues. We wish you a healthy and prosperous New Year!
For more info about 2019 at AtlasIED, visit #SoundsLikeSuccess