AltasIED SHS Speakers Battle Airport Noise at Military Training Facility
Presentations given to troops at a military training camp near a busy airport are heard loud and clear thanks to SHS speakers installed by integration firm Ford AV.
After years of struggling to be heard over noisy airport traffic while presenting course material and training information to hundreds of military service members, officials at a military training camp were ready to rest their vocal chords and incorporate a top-notch presentation system into the 209,000-square-foot facility. They contacted national AV integrator Ford AV for an audio presentation system that could be easily retrofitted into several classroom and lecture halls throughout the campus without compromising the unique architecture of the each space. The solution: Strategically Hidden Speakers (SHS) from AtlasIED.
AtlasIED Audio System Promotes Powerful Presentations
"I think of great audio when I think of AtlasIED," says Greg Banks, Ford AV commercial account manager, of the company's decision to install 12 SHS speakers throughout the campus that serves as home base for several military branches and offers training to approximately 1,400 service members. "In the past, presenters had to resort to yelling to be heard," adds Ford AV project engineer Daniel Bravo.
Speaker Design is Kind to Campus Cosmetics
To achieve the coverage necessary to be heard over the noise from the nearby airport, each of five large classrooms and lecture halls would be outfitted with several AtlasIED SHS units connected to 70-volt, 2-channel amplifiers from AtlasIED. Cosmetics played a huge part in the project, as well, notes Bravo. "In addition to providing the sound dispersion necessary to be heard over the noise of the nearby airport, the SHS speakers afforded us the ability to easily fuse the technology with the unique structure of the facility's pitched wooden ceiling."
"It was definitely time for a better approach."
— DANIEL BRAVO,
Ford AV Project Engineer
Constructed of wooden tiles, the angled ceiling was an important architectural feature that needed to be preserved. The small form factor and simple installation method employed by AtlasIED's SHS products enabled Ford to install a robust sound system without disrupting the ceiling cosmetics. "There was no room for error," says Bravo. "If we were to damage a tile, there would be no way to easily replace it."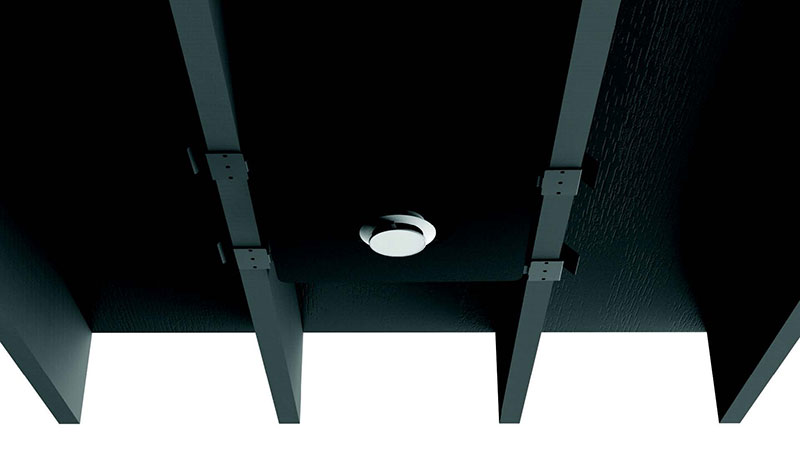 The Adaptive Dispersion Lens of the SHS measures a mere three inches in diameter, so the Ford installation team was able to drill into the ceiling tiles with a hole saw instead of a jigsaw. This minimized the impact on the wood and ensured a clean, accurate cut. To downplay the visual appearance of the dispersion lens that would protrude a few inches from the ceiling, Ford contacted the AtlasIED DesignLab prior to installation to custom match each speaker's lens and micro trim to the grain of the wooden ceiling surface. The high-resolution printing process employed by the DesignLab rendered speakers that blended seamlessly into the training facility's ceiling surface, yet filled the space evenly with audio via AtlasIED's patented 180-degree dispersion technology.
AtlasIED Amps Hide from Sight, Too
Ford wired the speakers of each classroom and lecture hall to its own local 70-watt, two-channel amplifier, the DPA-102PM, from AtlasIED. Due to the small form factor and unique pole-mounted design of this model, Ford was able to install each amplifier above the ceiling, completely concealed from sight. "There wasn't ample space within the facility to put in a rack room, so the ceilingmounted amps were ideally suited for this project," Bravo says.
A Perfect Union of Form and Function
Thanks to design and installation ingenuity from Ford and top-notch products that marry form and function from AtlasIED, the military base is able to provide high-quality training to service personnel in an environment that's audibly comfortable and free of distractions. Students are able to clearly hear presentations no matter how noisy nearby air traffic gets, and the eye-pleasing design the AtlasIED Strategically Hidden Speakers and pole-mounted amplifiers raise no visual conflict with the unique architectural features of the facility.