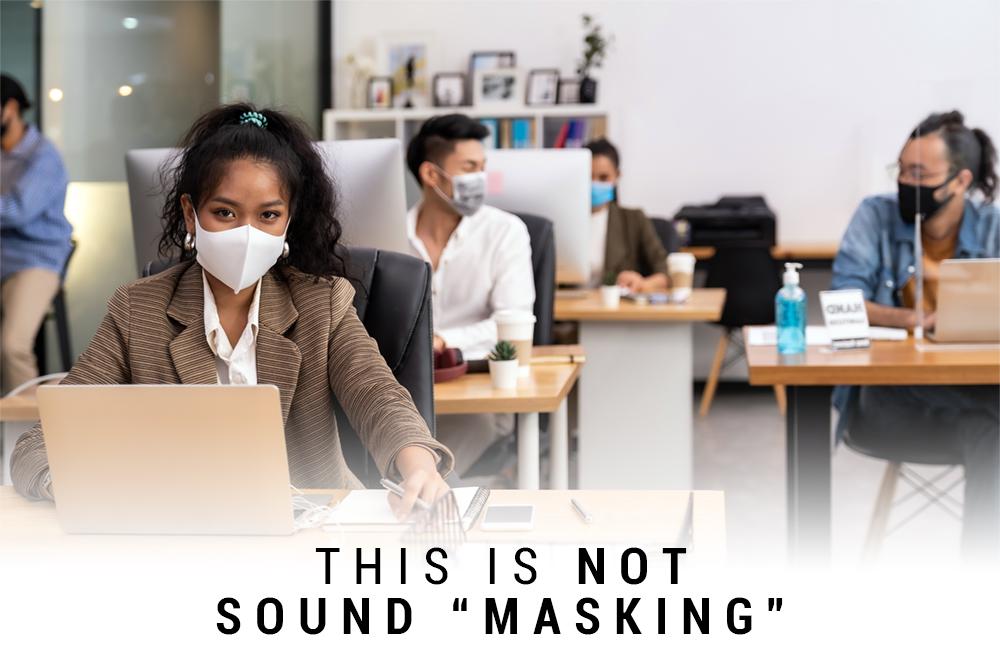 As businesses strategize how to safely get employees back in the office, staggered work schedules, reduced onsite staff, and revised office layouts are common strategies being discussed. And while these changes will help with social distancing, there are still some glaring problems that need to be considered.
Before people were working from home, noise distractions and lack of speech privacy negatively impacted productivity in all office environments. That has not changed. But was has changed is people have become used to the sounds and privacy afforded to them while working from home, in their own space, where they are comfortable and protected.
SOUND MASKING
The brain has the ability to naturally tune out certain noises when exposed to them repetitively over time. In the workplace, "selective hearing" comes in particularly handy, as workers no longer notice predictable, everyday noises such as the click of keystrokes, the murmur of voices in the next cubicles, and the tick of a clock. This neurological capability fosters greater efficiency and productivity. Over the past year, as legions of employees transitioned to remote, at-home working environments, they've encountered—and eventually trained their brains tuned out—new audible distractions such as barking dogs, kids playing, and other household noises.
When workers return to traditional corporate offices, their brains will need to readjust and retrain once again. All the workspace noises that they were once able to ignore prior to working from home, will cause them to defocus, making them less comfortable and less productive in their office environment. The integration of a well-tuned sound masking system, also called sound isolation, can help people ease comfortably back into their corporate settings by raising the ambient noise level with just the right amount of acoustically optimized masking noise.
As companies implement the staggered schedules and reduced onsite staff strategies, less speech privacy and more noise, as a result of lower levels of background noise, will only make office acoustics more distracting than they were before. Physical changes to office space such as screens and partitions create reflective, hard surfaces that present their own acoustical challenges. Sound masking and sound isolation technology can foster greater productivity, efficiency, and comfort for those returning to the office.

COMMUNICATION TECHNOLOGIES
Similarly, communication technologies exist to support a flexible return to work policy. In the wake of the pandemic, many companies are likely to implement more flexible options for their workers, including a rotating in-office schedule. Some employees may opt to work a few days at the office and a few days at home. Businesses may also start implementing hoteling options at the office. These in-office and WFH flexible schedules make real-time, consistent communications all the more complicated and necessary. Paging and public address systems that were traditionally used to notify on-premise employees about relevant information, such as notification of the office closing early for sanitization, will need to seamlessly cover both on-site and off-site workers. Software that can manage on-site and off-site communication methods of distributing information are much more effective, useful, and efficient
CONTACTLESS CONTROL
New applications of technology will enable safer, more hygienic, contactless interaction with corporate audio systems to deliver sound masking, paging, and background music to loudspeakers installed throughout the office space. Instead of manually activating recorded announcements or adjusting the volume of audio, for example, authorized employees can control the systems via an app on their personal mobile devices. Fortunately, most communications technologies can utilize the existing corporate wiring infrastructure. This makes adding new systems, products, and capabilities simple and affordable.
ADDED BENEFITS
It's important for businesses to provide a space where employees, who are already concerned about their health, can feel comfortable. But there are also the added benefits of improved productivity from more focused, less distracted workers and protecting speech privacy and confidential conversations. Plus, with offices still empty or at reduced capacity, now is a great time install a new sound masking and/or communications system.
For more information about the benefits of sound masking and other audio technologies for office and workplace environments, visit www.ModernOfficeAcoustics.com"
If you like this blog, you may also want to read "Reopening is a Delicate Process."