Westgate Resorts
Case Study
Westgate Resorts Adopt AtlasIED Atmosphere to Create Ambience
Walk into any Westgate Resorts lobby, stop and listen. Above the voices of resort staff greeting people at check in, or the concierge discussing places to eat, or guests asking about the pool operating hours, you'll hear music being played at a comfortable, welcoming level.
Westgate Resorts is fanatical about its guests, and the music played in its properties represents a key detail in creating a specific ambience for them. It's this attention to detail that illustrates why Westgate Resorts chose AtlasIED's Atmosphere digital audio platform and speakers to manage and deliver paging and music across its resorts.
Founded in 1982, Westgate Resorts operates more than 14,000 villas at 22 resorts in premiere travel destinations throughout the United States including Florida, New York, Tennessee, South Carolina, Missouri, Utah, Nevada and Arizona. The resort's properties feature themed destinations with world-class amenities and service, and many of their resort locations cater to families on vacation.
Background music in hospitality environments is proven to have a positive impact on customer engagement and satisfaction. An element of what's referred to as "atmospherics" in retail or hospitality, music has a direct effect on how people perceive a business. One study from the Journal of Vacation Marketing suggests music played in a physical environment can improve customers' attitudes during a wait, or amend guests' perceptions of brand personality and décor (2009, Mangini and Parker). Music helps set the tone, or ambience, for Westgate guests as they prepare for adventure, relaxation or dining.
With a critical association between music and the customer experience, Westgate needed the right audio system for both its indoor and outdoor spaces where guests congregate, and they chose AtlasIED's appropriately named Atmosphere Audio Processing and Control Platform to deliver. Atmosphere is a digital audio platform featuring a combination of digital audio processors, amplifiers, graphical user interface and programming software, a variety of wall and virtual controls and sensors, and provides users and technicians alike with touchless control and automation. With Atmosphere, users can manage the audio system to select sources, adjust the volume, and choose zones from a wall controller, mobile device, or computer.
Westgate installs AtlasIED's Atmosphere and speakers exclusively in its new projects, and retrofits many of its existing properties with the same AtlasIED equipment. Westgate chose Atmosphere for multiple reasons, including its simple configuration, intuitive ease-of-use, and consistent sound quality and audibility. When Westgate Resorts' Senior Project Manager, Tony Petro, started working with the company, he observed that the properties used different audio systems from one location to the next, providing a slightly different guest experience at each location. His first priority was to standardize the audio systems across the properties.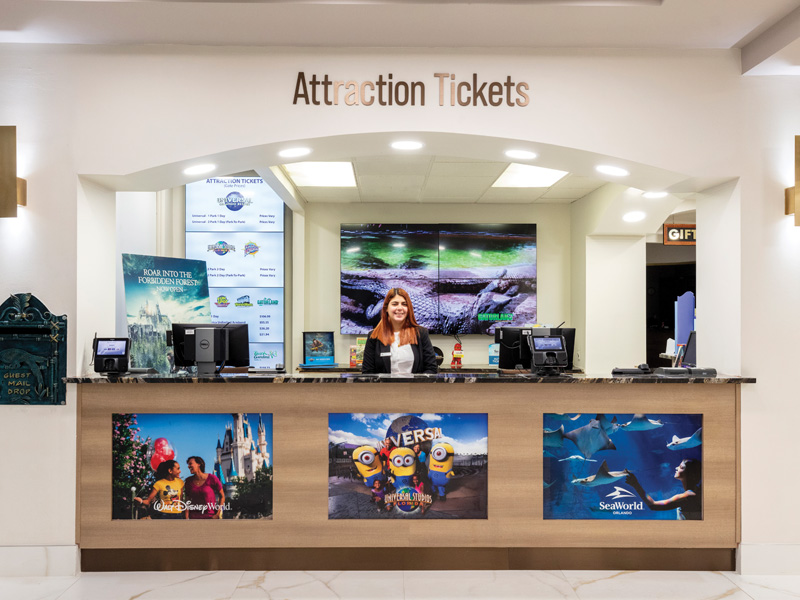 "While audio quality was fundamental in our new system, our primary objective with standardization was to make it easier for field techs who are tasked to maintain proper functionality with their resorts," said Petro. "Today, setting up a system is incredibly easy. We can deploy the system in 15 minutes. It doesn't take a week of training classes for our techs. It's intuitive and AtlasIED has a great support team."
The systems even allow resort management and staff to customize music playlists and change the music throughout the day in a given location, or zone, within a property. Depending on the setting, location, or time of day, management can either pre-schedule or manually choose to play tropical music near the pool in the morning, upbeat music at restaurants or even sounds of nature. They also use it for a range of announcements, from food orders at the pool or to call for guests to check in at resort restaurants. The system plays an essential role in the daily operation of the resorts.
Atmosphere allows the resort teams to connect various components and speakers, and tune AtlasIED speakers using pre-installed presets, dramatically simplifying installation. Per Petro, the ability to conduct maintenance and troubleshooting from afar was a gamechanger for his team.
"One of our sites is two hours away from my office. Before AtlasIED, we would send a technician out to make a slight volume adjustment. This was a long day for what was a simple adjustment. Today, with AtlasIED, a technician can log in from home and give directions to someone onsite or make the adjustment on their own. It makes everyone's lives easier."
— Tony Petro
Senior Project Manager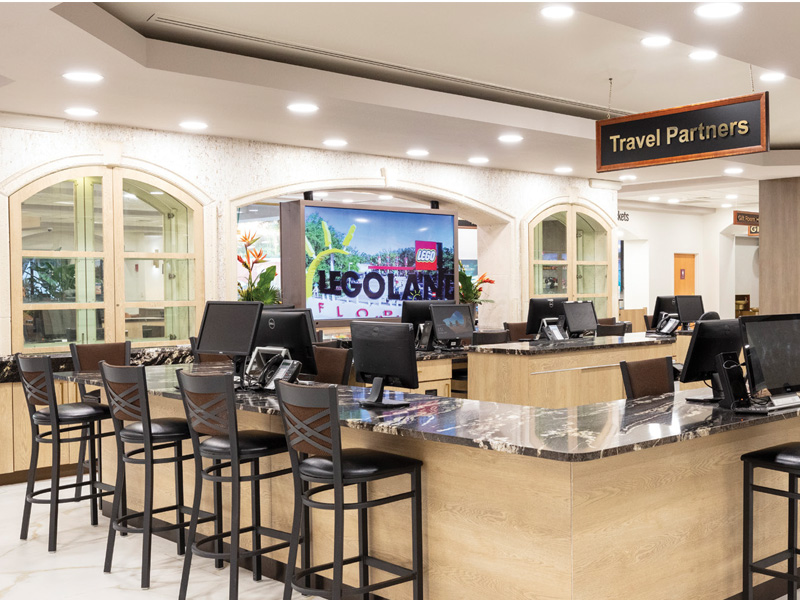 Petro oversees every audio system installation across Westgate's properties, and he has a team of installers ready to take on projects when needed. At Westgate Lakes Resort & Spa in Florida, an installation at the outdoor Waterpark represents a unique challenge. One of two existing audio systems needs replacing, but rather than removing both, the team plans to let Atmosphere manage it all and keep one part of the existing system in place to help save costs. The team plans to use Atmosphere to connect to and control the existing speakers using Dante.
Another property, Westgate River Ranch Resort & Rodeo in River Ranch, Florida will also install Atmosphere later this year and for the first time integrate AtlasIED's latest architecturally complementary speakers, the Strategically Hidden Speakers (SHS). Sitting on 1,700 acres, the Westgate River Ranch Resort & Rodeo is one the largest dude ranches east of the Mississippi and the only property of its kind in the Westgate portfolio. The resort plans to deploy SHS in the resort's new coffee and ice cream stores.
"The ability to match colors, conceal and blend the SHS speakers into the retail environment was ideal for us. Instead of surface mounting speakers, we can mount them in an open ceiling design in a very clean way. We are excited to use them in this space as we see this design as a great option for many of our other properties."
Westgate plans to use the proven AtlasIED systems at all of its future resorts and continue to update existing properties when the need arises. Using Atmosphere, it hopes to continue to consistently create the right ambience that will better connect guests to the resort and brand. Ultimately, Westgate Resorts hopes it's one more reason why its guests will return time and time again.