Life Baptist Church
Case Study
Expansion Inspires Addition of Commercial Dante®-Based AtlasIED System
AtlasIED DSP amp and 21 speakers deliver sermons and song throughout new 14,000 square-foot sanctuary.
Houses of worship are no different from showrooms in terms of their AV production needs, according to Michael Brown-Cestero, president of Embassy Holdings, a design firm specializing in advanced live and virtual communications systems. "Systems for each of these seemingly different venues adhere to the same set of safety standards, electrical codes, and construction protocols, and the AV systems employ the same technologies and equipment to process and distribute digital signals," Brown-Cestero explains. "The only difference between the two is the type of content that's shared and when service calls typically occur—during the day for churches and at night for showrooms."
With this philosophy in mind, Brown-Cestero tackled an extensive AV project for a newly built 14,000-square-foot church in Las Vegas as he would for any entertainment venue on the strip—with a focus on performance and futureproofing.
Ditching DIY for Dante®
What he discovered right off the bat was an incredibly tech-savvy church production crew. "Over the years, the tech team at Life Baptist Church had put together a decent audio system in its original 200-seat facility, containing mainly DIY gear."
When Brown-Cestero met with them to discuss objectives for the larger 672-person sanctuary, they all expressed the same request: a major update comprising completely new, state-of-the-art, professional-grade equipment that was flexible, versatile, and scalable.
"This was all the inspiration we needed to specify a Dante®-based digital audio network," Brown-Cestero says. "The technology is robust, reliable, and easy to implement. Plus, because it has become the de facto standard of most manufacturers, it would allow us to specify gear from different manufacturers— like a 70V digital audio system from AtlasIED, audio console from Yamaha, and in-ear monitors from Shure—and know that they would be able to communicate without the extra time, expense, and complication of converters and adapters."
Convergence of Old and New Networks
Another big selling point: The new Ethernet-based Dante® network would allow seamless transmission of the services in the new building to the existing worship space, which would transition into a community center and overflow space once the new sanctuary was complete. "This connectivity saved us from having to install hundreds of analog lines to enable audio and video signals to travel freely between the two facilities," Brown-Cestero explains. "In less than five minutes after being plugged in and its DSP levels set, the AtlasIED DPA-804 amplifier was on the network and ready to distribute clear, crisp, intelligible audio throughout the entire campus."
Audio captured by handheld and lapel microphones in the new church is processed, amplified, and set at the ideal volume level by the DPA-804. From there, in a dedicated control closet with lighting and video equipment, it sends audio to 17 AtlasIED FAP-43T ceiling speakers placed strategically in classrooms, offices, coffee shop, and foyer of the new facility, as well as to four RockFA-62 outdoor landscape speakers, and IT headend and existing speakers at the old venue across the parking lot.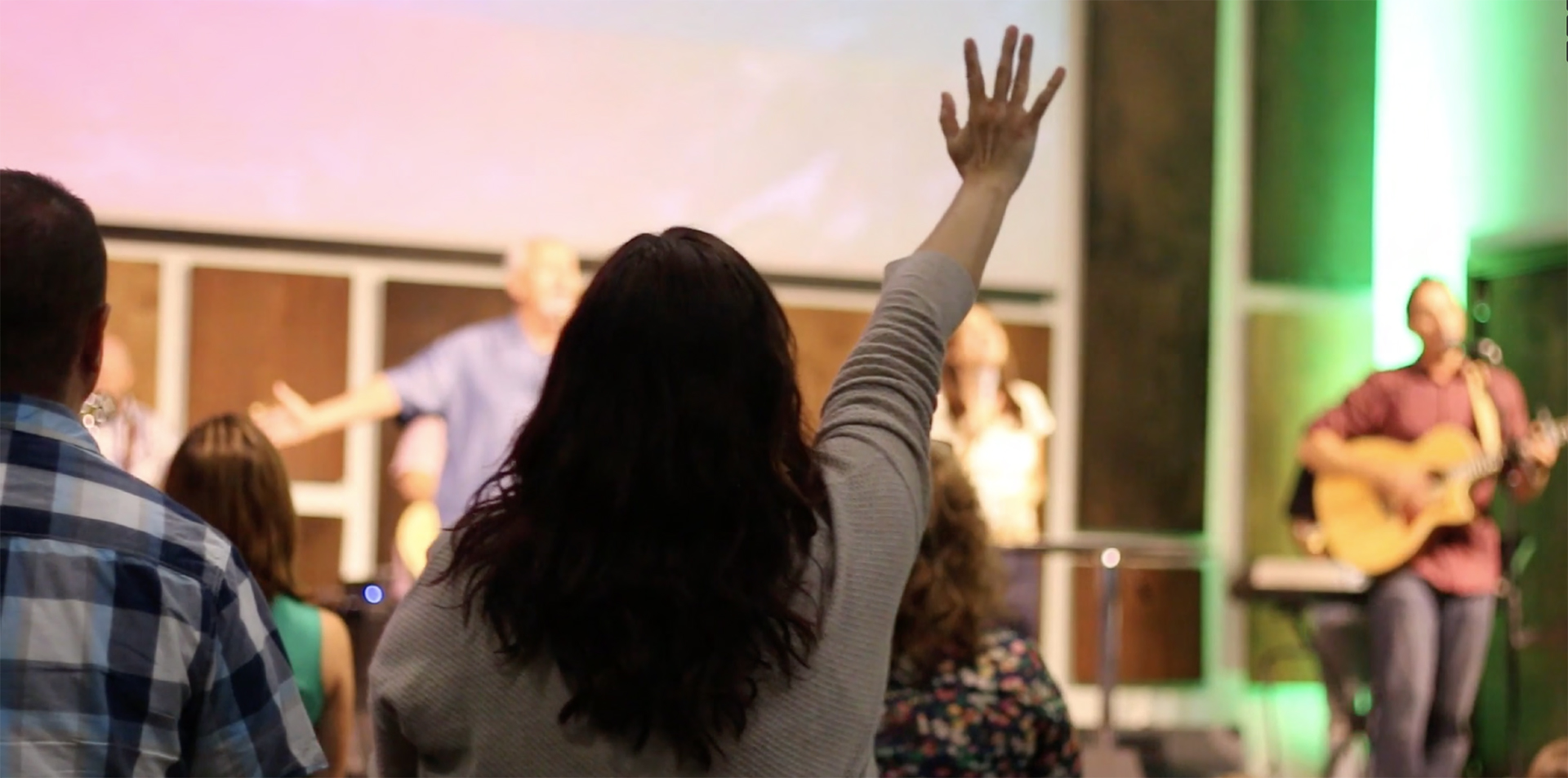 Minimizing the Digital Footprint
A church is the last place that should look like a technological playground. Mounted flush with the ceiling surface and resembling recessed light fixtures, the FAP-43T speakers blend right in, as do the four RockFA-62 with the outdoor hardscaping. Despite their low-profile, they spread audio far and wide, ensuring that no one misses a second of the sermon, choral production, and other events should they visit the restroom, grab a cup of coffee, or take a crying child outside for a breather.
Positioned in the courtyard between the old and new worship spaces, the Rock- FA-62 speakers welcome and bid adieu to the congregation as they enter and leave the sanctuary before and after services. It evokes an energetic and engaging atmosphere, important for attracting new members to the congregation.
Supporting the Evolution of AV
While simple in functionality, the Dante® AV network employed by the AtlasIED DPA-804 amplifier is sophisticated and advanced enough to deliver exceptional clarity, intelligibility, and coverage of audio well into the future. "That's what we love about AtlasIED products, particularly those that support Dante®. They just work, no matter what you throw at them or how AV technology evolves," Brown-Cestero says.