1. AMAZING POTENTIAL. GREATER PERFORMANCE CAPABILITY AND BETTER DYNAMICS THAN EXISTING ELECTRONICALLY STEERABLE LINE ARRAYS.
Two high frequency modules containing 8/16 ultra high performance compression drivers.
These focus the speaker energy in a unique waveform/horn construction. The system produces outstanding sound pressure levels of up to 148 dB peak/1 metre. Rather than including a lot of smaller high frequency dome tweeters in each module, we have chosen real high performance technology encapsulated in a single module.
An extremely high performance low-mid module
with specially developed high-powered 4" long excursion speakers. 32 of these are combined in one module to produce maximum sound pressure levels of up to 134 dB peak/1 meter*.
2. INFINITE POSSIBILITIES. SYSTEMS CAN BE CASCADED, COMBINED AND SCALED FOR TOTAL FLEXIBILITY.
Focus Modular systems can be adapted to meet a range of sound reinforcement requirements, offering unbelievable flexibility. Combine one, two or three low-mid modules with a high frequency module for example. Or, combine two high frequency modules with two low-mid modules, using one HF module on top for balcony coverage and one on the bottom for targeting the stalls. It simply depends on the venue requirements. The length and arrangement of the modules is influenced by the application and the acoustic conditions of the room. As the number of modules increases, so does the performance power. The longer the array, the longer its reach and its ability to target low frequencies more precisely.
3. BETTER RESULTS DUE TO THREE SEPARATE DSP PROCESSORS: BEAM STEERING DSP, SPEAKER PROTECT DSP AND USER DSP.
Instead of the usual single DSP unit, Focus Modular systems contain three independent, state-of-the-art processors. The processing is totally digital and extremely high quality thanks to the use of 56 bit/96 kHz double precision filter technology. Firstly, and most importantly, we have the BEAM CONTROL DSP. This guarantees precise beam steering in real time. Each individual speaker has separate processor control. Secondly, the SPEAKER PROTECT DSP offers loudspeaker protection via a sophisticated multi-band limiter. This guarantees maximum operating reliability and a controlled, clear sound image at all volume levels. The third DSP is known as the USER DSP. This gives the user direct access to the DSP functionality that includes very high quality audio tools such as 10-band parametric EQ, delay, dynamics, x-over etc. There's also an integrated pink noise generator and a sine tone generator plus status, temperature and operating time displays. The loudspeakers are also equipped with pilot tone monitoring for integration into emergency evacuation systems.
4. PRECISE HANDLING. PERFECT CONTROL IN REAL TIME.
A further unique feature is the ability to control the Focus Modular beam characteristics in real time via software simulation. This real-time capability offers tremendous advantages during venue set-ups. Using the software simulation, the user can see exactly where the beam is being directed and hear the result at the same time. It's a case of 'What you see is what you hear'. This enables optimum sound results to be reliably achieved, without any stress!
5. UNIQUE LIVE PERFORMANCE CAPABILITY. SUITABLE FOR LIVE SOUND AND MOBILE APPLICATIONS.
Focus Modular systems are perfect for mobile sound reinforcement applications. They are compact, lightweight and extremely powerful. One FM-110 high frequency module and two low-mid FM-400 modules have a combined weight of 120 kg and a maximum sound pressure level (dBA) of ca. 100 dB at a distance of 100 metres. The coverage is very even and natural sounding. The dynamic performance is equivalent to six modules of conventional, compact 2 x 6.5"/1.4" line array. In comparison with conventional line arrays, the results are clearer and more precise, especially in challenging acoustic situations.
The modules also take up less space for transportation – use a sprinter van instead of a truck! When mounting on ceilings, the overall weight remains manageable and the set-up time is short. Using an existing rigging system, several modules can be quickly combined without the need for additional tools. The array hangs straight with no mechanical curving.
Setting up the speaker beams can be done via laptop – in real time. Small adjustments can be carried out at the click of a mouse. This enables changes to be made just before or even during the show, for example if audience numbers are less then expected, or if the balcony is not being used.
6. INCOMPARABLE PRECISION. BEAM STEERING IS CONSIDERABLY MORE EXACT.
The computing power of the signal processors used, combined with an enormous investment in development, has resulted in the ability to adjust the speakers' vertical beam width (0°-90°) and vertical sound inclination angle (-40°/+40°) in highly precise 0.1 increments. In real time! This has enabled more direct coverage of audience areas avoiding room reflections – something that is very important in reverberant surroundings.
Another contributory factor in achieving such precision is the use of Fohhn's »Side Lobe Free Technology«. Developed in house, this algorithm is designed to suppress the unwanted side lobes that inevitably occur with line arrays, leading to greatly improved speech intelligibility.
Another outstanding technological function is Fohhn's »Two Beam Technology«. Two separate beams are generated in the loudspeakers' vertical dispersion range (each beam has a full acoustic line length), enabling different areas such as stalls and gallery to be simultaneously targeted. The acoustic centres of both beams can be moved over the entire length of the array and adjusted to give optimum results, even in the most difficult acoustic conditions.
7. BETTER OVERVIEW. EVERYTHING CAN BE CONTROLLED VIA A SINGLE PIECE OF SOFTWARE.
Focus Modular systems can be directly and intuitively controlled using a single piece of software: Fohhn Audio Soft V3.3. Highly unusual, it nevertheless offers tremendous advantages: No unnecessary waiting time while data is transferred between software programs, or computer processes are completed. Loudspeakers do not have to be muted while settings are optimised. Both the software and loudspeaker systems are permanently online and in constant communication with one another. Every single adjustment, including beam steering and sound settings, can be made in real time. Bass Arrays can also be controlled using the same software.
8. SUPERB INTEGRATION. BLENDS PERFECTLY INTO ARCHITECTURAL SURROUNDINGS AND STAGE SETTINGS.
Focus Modular is also remarkable for its appearance. Architects, event organisers and customers simply love the loudspeakers' slim, unobtrusive »look« that allows the units to blend perfectly into architectural surroundings and stage settings.
Housings can be supplied in all RAL colours to match interiors. As the speakers are electronically adjustable, they can be installed flat against the wall, or even integrated into a wall cavity enabling them to merge unobtrusively into the room architecture.
Two Separate Beam
Technology

This innovative Fohhn development enables two separate beams to be generated in the vertical dispersion range, allowing specific audience areas such as balcony to be targeted by the same line array.
Overview of Main Operating Principle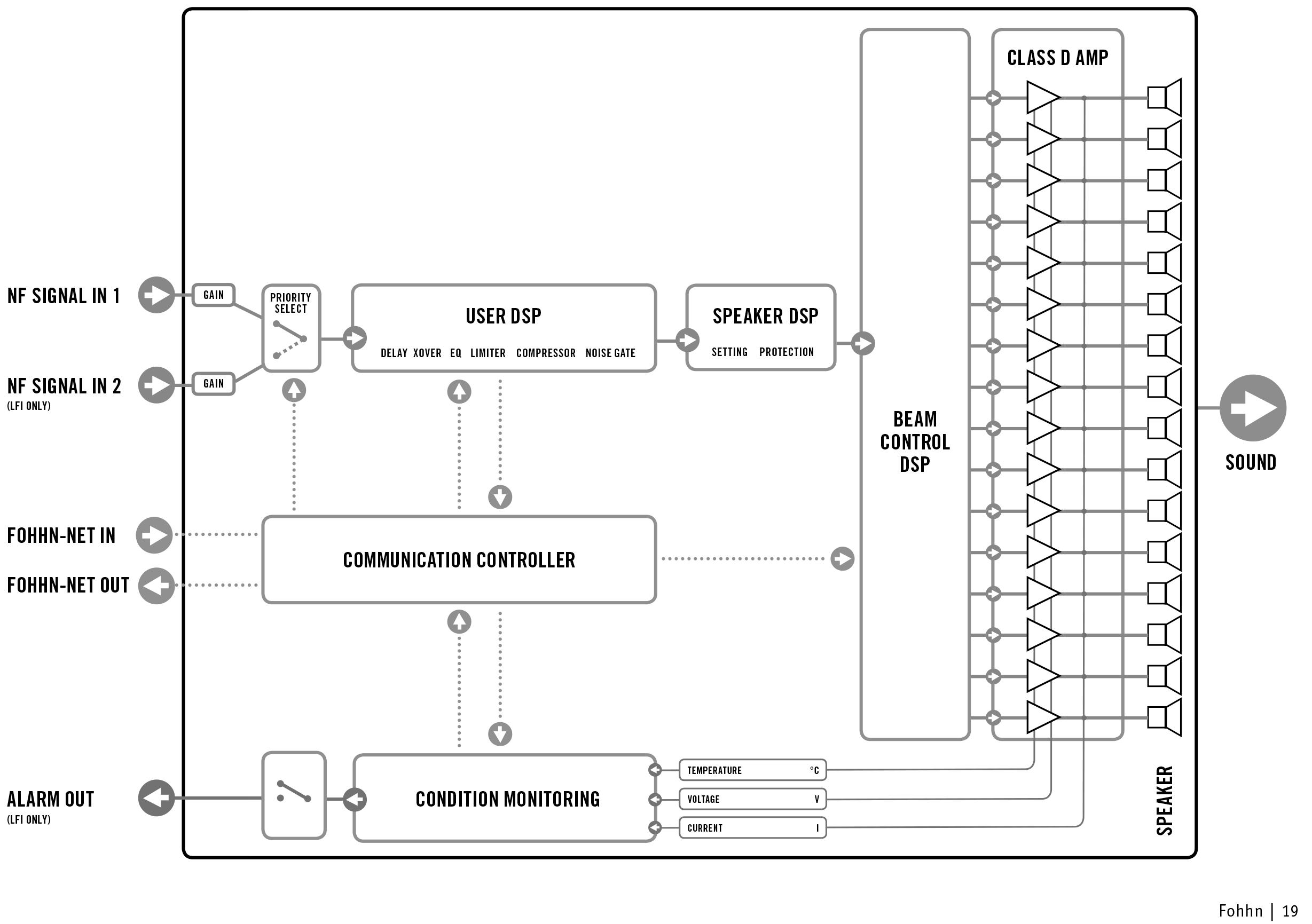 This simplified diagram gives interested readers a basic overview of the functional principles. The input signal initially runs through the NF Signal In. This has a Priority Select that is primarily used to handle emergency evacuation information, guaranteeing maximum safety during an emergency. The input signal then passes through a digital signal processor (the User DSP), which offers an extensive range of real-time processing functions. These can be simply and intuitively accessed via Fohhn Audio Soft control software. The »Speaker Setting & Protection« DSP contains all the various protection mechanisms such as a finely tuned multi-band limiter.

At the »heart« of all Focus Modular systems is the »Beam Control DSP«. This contains the algorithms required for calculating the various beam characteristics. From here, all software beam steering settings made by the user are transmitted for realisation by the individual loudspeakers. Each speaker, with its specially calculated signal, is then driven by its own Class D amplifier.

Constant monitoring of each individual output signal and of component conditions such as temperature, current and voltage enables the user to check on the actual operating status at all times. Any modified settings can be saved as presets.
One Software Solution for Beam Steering, Signal Processing, and Real-Time Control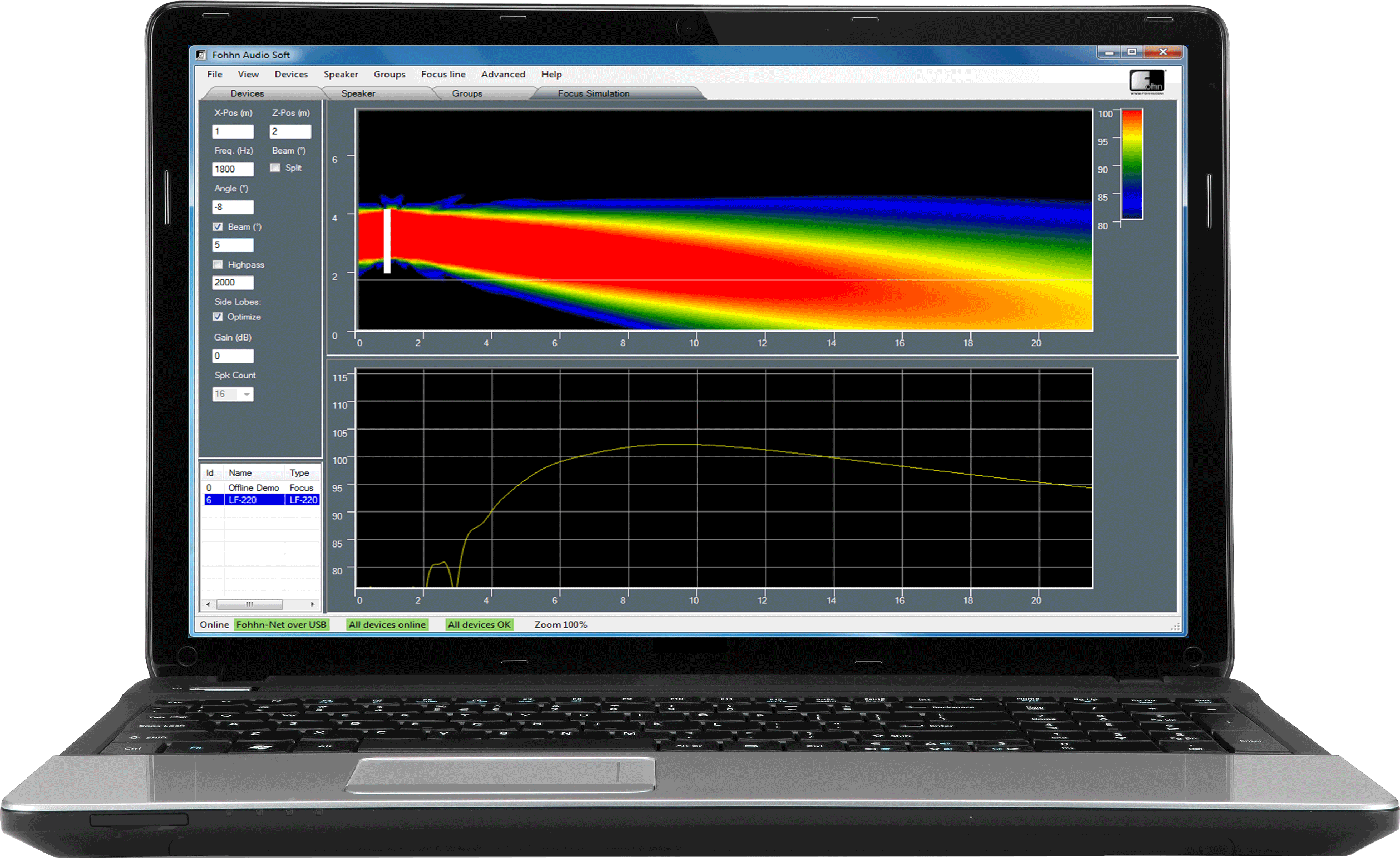 FOHHN AUDIO SOFT V4
At the heart of Fohhn Audio Soft V4 is the Linea Focus Simulation. The unique integration of control and simulation allows the immediate transfer of parameter settings to the connected devices. All parameter changes made in the simulation window are transferred to the devices in real time. Changes to the sound inclination angle or beam width are instantly audible. The vertical sound inclination angle can be adjusted between +40°/-40° and the vertical beam width between 0° to 90°.

The simulation of the line array's sound dispersion characteristics lies within a frequency range of 50 Hz – 20 kHz. The spatial distribution of the sound pressure level is displayed in graded colours. The frequency response at any given position, and the sound pressure level for any area of the audience, can be displayed on a graph. Optimizing the sound dispersion characteristics can always be done in real time. Using a laptop with WLAN lets the user move around, quickly assess and optimize the sound in each part of the room, before comparing it again with the simulation.